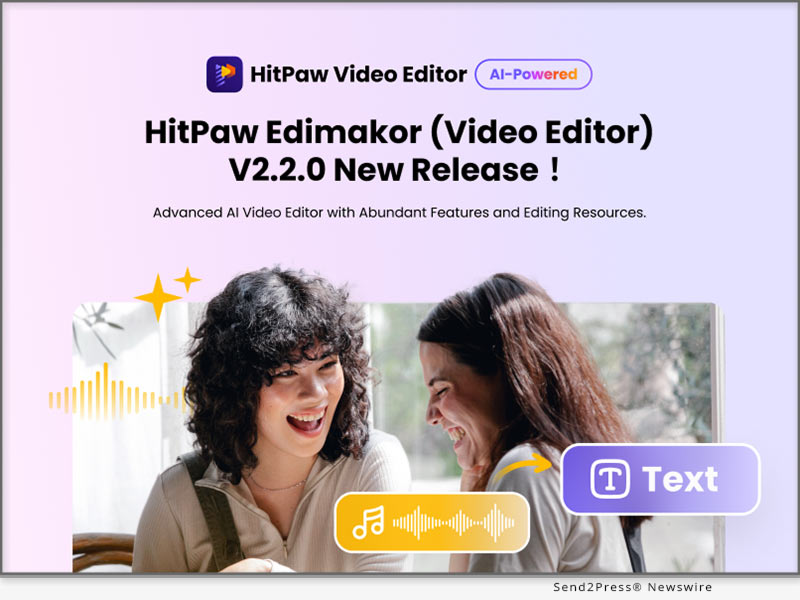 NEW YORK, N.Y., Sep 13, 2023 (SEND2PRESS NEWSWIRE) — An innovative software firm, HitPaw, is thrilled to announce the release of HitPaw Edimakor V2.2.0, which offers unrivaled benefits. Everyone can simply make professional-quality videos with this excellent software. It is a robust and easy-to-use video editing program that offers users a wealth of options for creating cutting-edge videos. With its outstanding features, HitPaw Edimakor is destined to revolutionize the video editing sector.
In this new version, HitPaw Edimakor updates a few new features and capabilities, such as subtitle maker, audio visualizer, audio recording and more abundant resources for creating stunning videos and bringing better user experience!
LET'S CHECK OUT THE NEW FEATURES:
1 – Auto Subtitle Maker
The sophisticated AI-powered auto subtitle maker of HitPaw Edimakor creates precise subtitles for your videos automatically. Say goodbye to the laborious process of manually transcribing and syncing subtitles. You can add subtitles to your videos using HitPaw Edimakor, making them more accessible and interesting for a larger audience.
2 – Audio Visualizer
Bring your videos to life with the dynamic audio visualizer feature. HitPaw Edimakor allows users to create captivating visual representations of audio, syncing the visuals with sounds and rhythms. From music videos to promotional content, the audio visualizer is bound to add a visually stunning element that captivates viewers and enhances the overall video experience.
3 – Audio Recording
HitPaw Edimakor simplifies the video editing process by offering built-in the audio recording capability. You can now record voiceovers, add narration, or capture audio directly within the software. This feature eliminates the need for external recording tools, streamlining the editing workflow and saving much time for you.
4 – Abundant Resources for Video Editing
HitPaw Edimakor provides users with a vast library of resources, including preset animations, text styles and dynamic effects, etc. Whether you are a beginner or a seasoned professional, these resources empower you to unleash your creativity and produce outstanding videos with ease.
Compatibility and Price:
HitPaw Edimakor V2.2.0 is compatible with the Windows system (The Mac version is coming soon). It costs you $29.95 to subscribe for a one-month plan, $39.95 for a one-year plan, and $59.95 for a lifetime plan. Download the software and fill out a questionnaire, and you will get a coupon for 30% off!
For more information about the price, you can visit: https://www.hitpaw.com/purchase/buy-hitpaw-video-editor.html
About HitPaw:
HitPaw is a burgeoning technology company that aims to provide its customers with an all-in-one solution for editing videos and photos. The company's mission is to simplify the video editing process and make video editing accessible to every user. It continues to make progress in providing better user experience in the video editing industry.
To learn more about us, you can visit:
https://www.hitpaw.com/ and https://www.hitpaw.com/about.html
Follow our social media:
YouTube: https://www.youtube.com/channel/UCQwRggaotgiMcPbiCOsJeBA
Facebook: https://www.facebook.com/hitpawofficial
X/Twitter: https://twitter.com/HitPawofficial
Instagram: https://www.instagram.com/hitpawofficial/
Pinterest: https://www.pinterest.com/HitPawofficialwebsite/
News Source: HitPaw
Related link: https://www.hitpaw.com/
This press release was issued on behalf of the news source, who is solely responsible for its accuracy, by Send2Press Newswire. To view the original story, visit: https://www.send2press.com/wire/hitpaw-edimakor-v2-2-0-released-the-best-option-for-top-notch-video-editing/