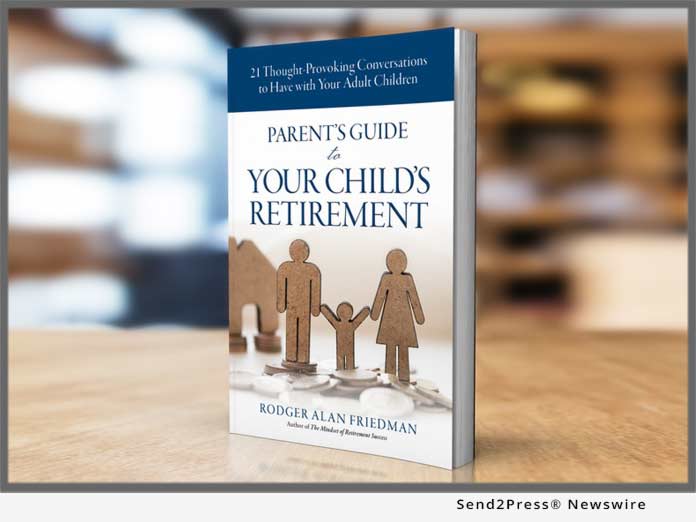 WASHINGTON, D.C., Aug 20, 2018 (SEND2PRESS NEWSWIRE) — In his compact new book, "Parent's Guide to Your Child's Retirement: 21 Thought-Provoking Conversations to Have with Your Adult Children" (ISBN: 978-0999641415) Chartered Retirement Planning Counselor(SM) Rodger Alan Friedman, delivers an easy to follow structure that may serve to enable you and your children to have positive, engaging and thoughtful conversations regarding their future retirement.
"The book is designed for parents who have grown children who are in the workforce, children who should be salting away funds for their own future retirement. I did not write this for parents of toddlers, grade school kids or hormone raging teenagers," says Friedman. He writes that "My focus here is on kids that should be contributing to 401(k), 403(b) plans, IRA's and investing in real estate to build future wealth."
Friedman's new book is very deliberately interactive. After sharing with parents the three monsters potentially hiding under the beds of their one-day-to-be-retired kids that can hinder their retirement, he provides 21 conversation paths to engage parent and child in thoughtful, non-confrontational dialogue regarding the progress the adult child is making in preparing for their own future retirement.
Friedman clearly defends and weaves within the suggested conversations that parents are not inclined to fund their child's retirement. "Parents Guide to Your Child's Retirement" is a short 76-page guide designed as a parental tool to gauge if you should still be worried about your child.
Friedman can talk about:
* The 3 biggest risks – or monsters that can wreck your kid's retirement;
* The importance of understanding if your child has an entitlement mindset;
* Engaging in thoughtful conversations with grown kids to determine if they are a train-wreck waiting to happen or if they are on track for an independent future retirement;
* How the parents can help without funding their kids retirement.
To request a free copy of the book, please contact Rodger Alan Friedman using the information found below.
ABOUT THE AUTHOR:
Rodger Alan Friedman is a Chartered Retirement Planning Counselor((SM) Wealth Manager and financial advisor with 35 years' experience in the industry. Friedman is a former senior vice president-wealth management and senior investment management consultant with Morgan Stanley and has authored 3 additional books on retirement planning and working with a financial advisor.
AVAILABILITY: Washington, D.C. metro area, nationwide by arrangement and via telephone.
MEDIA CONTACT:
Rodger Alan Friedman, Steward Partners Global Advisory, 7550 Wisconsin Ave, Suite 420 Bethesda, MD 20814; by phone (240) 800-3450 or Rodger.Friedman@StewardPartners.com
Steward Partners Global Advisory LLC and The Friedman, Wong, Kafetz Group maintains a separate professional business relationship with, and our registered professionals offer securities through, Raymond James Financial Services, Inc. Member FINRA/SIPC. Investment advisory services offered through Steward Partners Investment Advisory LLC.
News Source: Rodger Alan Friedman
Related link: http://www.rodgeronretirement.com/
This press release was issued on behalf of the news source, who is solely responsible for its accuracy, by Send2Press Newswire. To view the original story, visit: https://www.send2press.com/wire/chartered-retirement-planning-counselor-shares-how-to-engage-your-grown-kids-about-preparations-for-their-own-retirement/