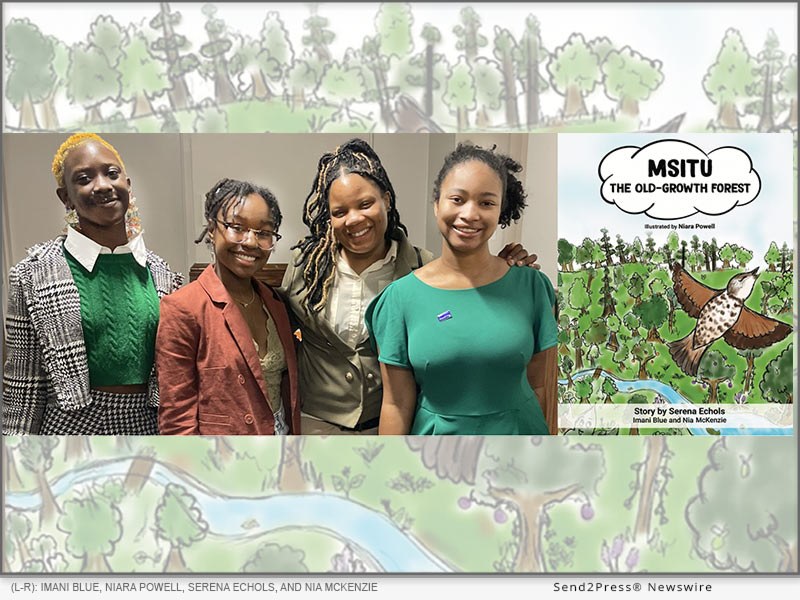 WASHINGTON, D.C., Sep 12, 2023 (SEND2PRESS NEWSWIRE) — Fostering their continued efforts to create innovative programs to lead the charge in building a more sustainable future, the HBCU Green Fund, founded by environmental leader, Felicia Davis, has launched a self-titled publishing brand. Their first release, "MSITU: The Old-Growth Forest," is written by three women in STEM, Spelman college students and alumna, Serena Echols, Imani Blue and Nia McKenzie, and illustrated by Niara Powell. Released today, the children's science and nature book takes young readers on a magical journey into an old-growth forest where the native plant species live in perfect balance until their delicate equilibrium is disrupted by outsiders.
"We hope to ignite the imagination of young readers," said Echols, a recent Spelman College graduate. "By weaving messages about teamwork, understanding and the power of nature, we hope to teach young readers about unity, the forest, and the importance of nurturing and protecting the environment."
Illai Kenney, director of HBCU Green Fund comments, "In order to effectively address the issue of Climate Change we must take from African and Native American cultures and instill the interconnectedness of humans, nonhumans and the environment from birth. Small children that learn environmentally-friendly habits like conserving water and recycling will pass it down generations. The fate of the planet is in the hands of our youth so teaching them to care for their natural environment will result in a more sustainable world."
"MSITU is a delightful read that inspires environmental stewardship," adds Davis. "Young readers are introduced to an urban old-growth forest that they can visit to get a better understanding of nature and for memories that will last a lifetime. A special bonus is to learn about the exceptional authors and illustrator of the book."
The HBCU Green Fund publishing group aims to empower and amplify the voices of HBCU authors by providing a platform for them to contribute to the conversation on environmental issues within the HBCU community and beyond. Based in Washington, DC and Atlanta, the HBCU Green Fund is a 501 (c)(3) charitable organization working with historically Black colleges and universities in the U.S. and abroad to advance sustainability and environmental justice, promote student engagement in green initiatives, and train the next generation of global green leaders.
The organization's Atlanta University Center Clean Energy Fellows Program introduces students to career opportunities in the clean energy sector and connects students with Black entrepreneurs that provide training in renewable energy technologies. Their Eco Spring Break Service-Learning trip enables HBCU students, faculty, and alumni to spend a week in an African village where they can help, and learn from, the vulnerable communities that contribute the least, but are most impacted by the effects of climate change. The West Atlanta Project, funded by a Bezos Earth Fund grant as part of the Greening American Cities Initiative, will enhance access to healthy food, outdoor activities, green transportation options, and education, with a Truly Living Well Farm serving as the project anchor.
"MSITU: The Old-Growth Forest," published in collaboration with JSJ Media, is available for on Amazon.com and wherever books are sold.
For more information about HBCU Green Fund books or programs visit hbcugreenfund.org or @hbcugreenfund on social media.
MEDIA CONTACTS:
* Edrea Davis, Jazzmyne PR
818.613.9521 | edmedia@dogonvillage.com
* Makeda Smith, Jazzmyne PR jazzmynepr@gmail.com
News Source: HBCU Green Fund
Related link: https://hbcugreenfund.org/
This press release was issued on behalf of the news source, who is solely responsible for its accuracy, by Send2Press Newswire. To view the original story, visit: https://www.send2press.com/wire/black-women-in-stem-pen-new-childrens-science-and-nature-book-for-hbcu-green-funds-publishing-arm-launch/