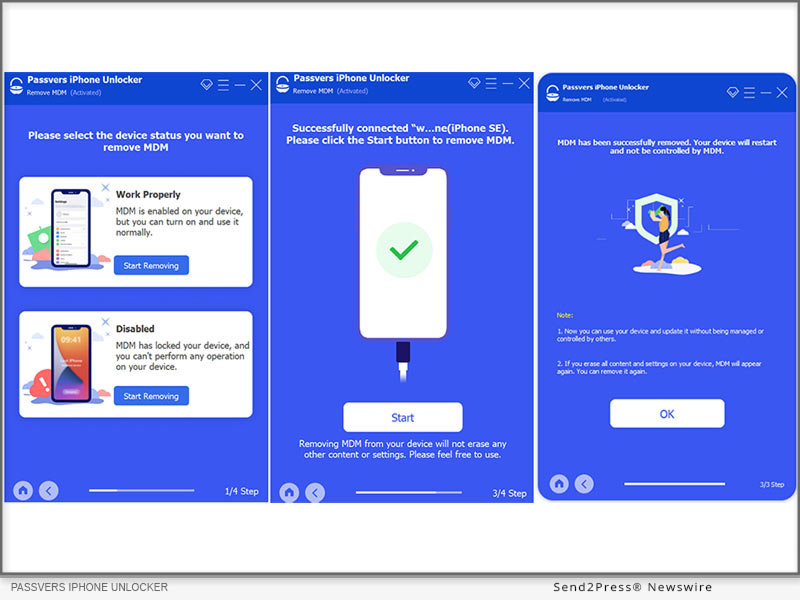 HONG KONG, Sep 11, 2023 (SEND2PRESS NEWSWIRE) — Passvers iPhone Unlocker is tapping into a niche but essential need. This software has seen accelerated growth. From dealing with pesky activation locks to addressing concerns related to MDM, this tool has proven invaluable. Passvers iPhone Unlocker, with its state-of-the-art features, has continually provided solutions for iPhone users. This journey will see how it tackles the growing concerns related to MDM.
What is MDM And Why is it Implemented?
Ever been handed a work phone and found can't download certain apps or access specific settings? That's MDM, or Mobile Device Management, at work. Designed to help organizations manage and secure devices they give to their employees, it's like a virtual guardian. However, it's not always sunshine and rainbows.
Challenges Faced by Users Due to MDM
Imagine, if someone will, trying to sell the company-issued device only to find it's as useful as a brick. With MDM, we could find:
* Personal privacy breaches, like location tracking.
* Restrictions on app installations.
* Difficulties in selling or repurposing the device post-employment.
But there's good news! Passvers iPhone Unlocker has introduced an upgrade to address these very concerns.
How Passvers iPhone Unlocker Works on MDM Removal
Addressing user concerns, Passvers iPhone Unlocker has rolled out a nifty upgrade. So, how does this feature help bypass MDM on iPhone and iPad?
STEP 1 : Open the program, select "Remove MDM" and then "Work Properly."
STEP 2 : Connect your device using a USB cable and trust the computer connection.Upon successful connection, click "Start" and ensure "Find My iPhone" is off.If "Find My" is active, provide Apple ID password; if not, the software does its magic.
STEP 3 : Your device will restart, and it's no longer under remote management.
While the Passvers iPhone Unlocker is a powerful tool to bypass MDM, it's crucial for users to understand its scope and potential limitations. If your iOS devices are not able to be used, you should choose "Disabled" from the first step. It has the same process as above.
Learn more: https://passvers.com/remove-mdm-from-ipad-iphone/
Conclusion
In a world dominated by digital devices, tools that enhance our experience are always a boon.For those facing MDM hurdles, it's time to embrace the Passvers iPhone Unlocker. Not only does it alleviate current issues, but the future holds promise for even more sophisticated upgrades and improvements.With the tech landscape always shifting, we can anticipate that Passvers will continue its journey of innovation, addressing more pain points of iPhone/iPad users in the days to come. So, stay tuned!
Contact Information
Official website: https://passvers.com/iphone-unlocker/
News Source: Passvers
Related link: https://passvers.com/
This press release was issued on behalf of the news source, who is solely responsible for its accuracy, by Send2Press Newswire. To view the original story, visit: https://www.send2press.com/wire/empower-all-users-iphone-experience-bypass-mdm-with-passvers-iphone-unlocker/