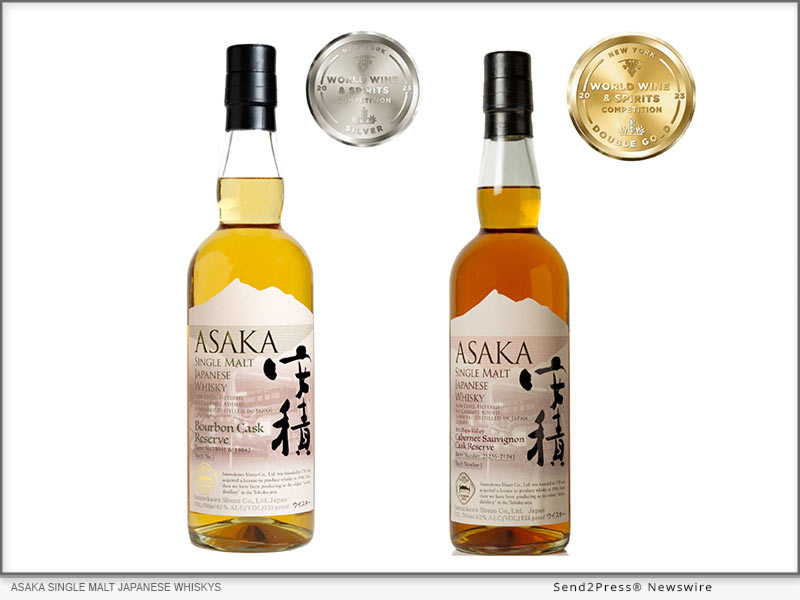 SOUTH SAN FRANCISCO, Calif., Sep 18, 2023 (SEND2PRESS NEWSWIRE) — The 2023 New York World Wine and Spirits Competition awarded its coveted Double Gold Medal to Asaka Distillery's Asaka Single Malt Japanese Whisky, Aril Napa Valley Cabernet Sauvignon Cask Reserve, and a Silver Medal to Asaka Single Malt Japanese Whisky, Bourbon Cask Reserve, Suzuki-Marketing, Incorporated announced today.
What sets both whiskys apart is the fact that they are:
100% distilled in Koriyama City, Fukushima, Japan, in a Miyake Japanese still from imported Scottish malt. (The distillery uses a Japanese-made still because Miyake, being a local company, can manufacture a still that can perform in Fukushima's hot summers and very cold winters.) Many Japanese whiskys are made with blends of Japanese and imported whisky. In 2015, Asaka committed itself to distilling all of its whisky in Japan.
Non chill-filtered – to preserve all the flavor of the whisky.
No caramel color is added – many distilleries add caramel color to create a uniform color for each batch. Asaka whiskys gets their color solely from the barrels in which they're aged.
Bottled at barrel ("Genshu") strength. ("Genshu" is a sake term that indicates the sake is barrel strength. Asaka employs the word "Genshu" to honor its sake heritage.)
About Asaka Single Malt Japanese Whisky, Bourbon Cask Reserve (Silver Medal)
The Bourbon Cask Reserve whisky is aged for three years in Bourbon barrels and bottled full-strength at 61% Alcohol by Volume (122 proof). The color is a light gold. The aromas of dry citrus, vanilla, oak, and brown spices appear upon opening the bottle. Flavors of dry fig, citrus, tangerine, and spices coat the palate. The influence of the bourbon cask treatment is felt throughout, but especially on the finish, reminiscent of the finest bourbon paired with Japanese sensibility.
About Asaka Single Malt Japanese Whisky, Aril Napa Valley, Cabernet Sauvignon Cask Reserve (Double Gold Winner)
The Asaka Cabernet Sauvignon Cask Reserve is aged for three years in Bourbon barrels, followed by an additional six months in Cabernet Sauvignon barrels from Aril Napa Valley winery ( https://www.arilwines.com/ ). The light gold color is beautifully tinged with the garnet color influenced by the cabernet sauvignon barrel aging. You're greeted with dry citrus, vanilla, oak, and brown spice aromas, with an added layer of blackberry, plum, black pepper and violets that adds greatly to the overall experience. With only 480 bottles made, this whisky's suggested retail price is $245.
Mark Cummins, winemaker at Aril Wines (arilwines.com) said, "Working with Asaka Distillery was a chance to bring the rich heritage of California winemaking and the precision craftsmanship of Japanese whisky production together. By using the French Oak barrels that stored our Napa Cabernet, Asaka created a product that honors Napa Valley 's winemaking heritage and the whisky distilling craft that the Yamaguchi family has been honing for 77 years. We're very proud to be a part of this."
Kyoji Yamaguchi, Representative Director of Sasanokawa/Asaka and a 10th-generation family member involved with the business, said, "We are extremely honored and humbled by these awards. Our goal moving forward is to work even harder to keep producing better whisky. We hope our whisky makes people around the world a little happier every time they pour a glass. We're looking forward to having people taste the next batch of whisky we produce."
Serving Suggestions
Both whiskys can be served neat, on the rocks, with a slight amount of water ("mizuwara style") to open the aroma and flavor, or in a classic Japanese highball. The Cabernet Sauvignon Reserve is also delicious as a New York Sour, (served with a red wine float on the top) which complements the red wine influence in the whisky.
Jose Delgado, the Wine Director of Restaurant Mourad (mouradsf.com) in San Francisco, was one of the first beverage directors to put Asaka whiskys on a menu. "Both Asaka Whiskys are my absolute favorites to recommend to my guests here at Mourad San Francisco who enjoy their drams on the rocks," he said. "The aromas of most ultra-premium whiskys, when served too cold, shut down at various degrees. Asaka Whiskys, on the contrary, blossom with pronounced high-toned aromas regardless of the cold. At 61% and 62% abv at barrel strength, the slow dilution on premium ice makes the Asaka duo one of the smoothest and most refreshingly complex drams around."
Quinton Jay, is the proprietor of Bacchus Wine & Spirits (bacchusws.com) in Millbrae, California, and one of the largest purveyors of Japanese whiskys in the US. He was one of the first retailers to put Asaka Whisky on the shelves. "In the confusing and misleading market of Japanese Whisky, Asaka Japanese Whisky deserves a prime spot on our shop's shelves especially since it embodies the authentic craftsmanship and tradition of Japanese whisky-making," he said.
According to an August, 2020 article in the leading Japanese Whisky website Nomunication ( https://www.nomunication.jp/distillery/asaka/ ) "Tohoku (Northeastern Japan) is known for hot summers and cold winters. Big temperature swings like this can respectively draw more whisky into, then push it out of the wood. It's expected that this will bring significantly more cask influence to Asaka's whiskies when compared to those of similar age at other distilleries in Japan."
About Asaka Distillery
Asaka Distillery's heritage dates to 1765 when Sasanokawa Sake Brewery became the first sake brewery in Northeastern Japan's Tohoku Region. In 1946, TetsuoYamaguchi, the company's president, realized that the Allied Occupation Soldiers in the region preferred whisky to sake. So, he applied for and received the first distilling license in Fukushima and began selling Cherry Whisky & Yamazakura brand whisky. Asaka, incidentally, is where Ichiro Akuto stored and blended the Ichiro's Blend Card Series, which launched this iconic brand.
In 2015, the Yamaguchi family recommitted to making 100% distilled-in-Japan, Japanese whisky In November, 2016, the distillery re-launched with new equipment and a commitment to 100% Japanese whisky made with imported Scottish malt.
Suzuki-Marketing began importing Asaka Whisky to the US in 2021, following its successful introduction of Sasanokawa sake in the US. Yuko Suzuki-Bischoff, founder and CEO, said, "After we introduced Sasanokawa sake in 2021, we were delighted to find out that the Yamaguchis also distill amazing whisky. They were also willing to listen to our ideas for the US market and take some serious chances with us. They worked very hard and guided us through many barrel tastings to develop whiskys that we are very proud of."
About Suzuki-Marketing
Based in South San Francisco, California, Suzuki-Marketing, Incorporated was founded by Yuko Suzuki in 2004. In addition to importing Japanese whisky and sake, the company also imports Ultra-Premium Moriizou Shochu and Ogata Ranch Maesawa Wagyu Beef. The company exports fine wine and spirits to Asia-Pacific and provides marketing and distribution support throughout the region. Ms. Suzuki was former Asia-Pacific Marketing Director for Gallo Wines, and is a Japan Sommelier Association Certified Wine Advisor, WSET Advanced, and Certified Wine Specialist (Society of Wine Educators). https://suzukimarketing.com/
News Source: Suzuki-Marketing Incorporated
Related link: https://suzukimarketing.com/
This press release was issued on behalf of the news source, who is solely responsible for its accuracy, by Send2Press Newswire. To view the original story, visit: https://www.send2press.com/wire/two-japanese-whiskys-from-asaka-distillery-win-silver-and-double-gold-medals-at-the-2023-new-york-world-wine-and-spirits-competition/