Home
Tags
Rhode Island Business
Tag: Rhode Island Business
WARWICK, R.I., June 22, 2021 (SEND2PRESS NEWSWIRE) -- "Pain Behind Broken Vases" (ISBN: 978-1952521331) by Amilia Powers is the result of eight true stories of relational manipulation, control and abuse. Powers has combined stories from several women's real-life experiences into the voice of one.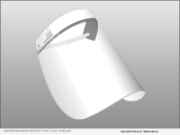 JOHNSTON, R.I., July 14, 2020 (SEND2PRESS NEWSWIRE) -- In response to the nationwide resurgence of COVID-19, A&H Worldwide recently increased production of their protective face shields to keep up with the rising demand. These affordable face shields are made of durable 16 pt. PETG plastic with a comfortable foam headband and an adjustable elastic band. They are available in a multitude of quantities to anyone interested and can be customized if desired.
PROVIDENCE, R.I., Feb. 14, 2020 (SEND2PRESS NEWSWIRE) -- Silk Title Co., the leading provider of digitally-driven mortgage closing services, announced it achieved record growth in 2019, enabling the firm to deliver on its "service at scale" promise to its institutional bank and independent mortgage lender clients nationwide.
PROVO, Utah, Aug. 22, 2019 (SEND2PRESS NEWSWIRE) -- Simplifile, a leading provider of real estate document collaboration and recording technologies for lenders, settlement agents, and counties, today announced that the Town of Westerly has joined Simplifile's e-recording network following the July 1 passage of a law authorizing e-recording statewide in Rhode Island.
PROVIDENCE, R.I., July 11, 2019 (SEND2PRESS NEWSWIRE) -- A popular women's leadership conference is returning to Providence. The event will be held on September 19, 2019 at the Rhode Island Convention Center. Last year, the Realizing Inspiration and Sustaining Excellence (R.I.S.E) Women's Leadership Conference sold out; this year's event is being met with that same enthusiasm.