MIDDLETOWN, N.Y. /NEW YORK NETWIRE/ -- Gan Jing World (Ganjingworld Corp.) announces its first Mother's Day celebration videos award that showcases the best memories, moments, traits, and values. We want to honor moms around the world for their unconditional love, support, and sacrifice. Share Your Love to Moms, Win up to $1,000 Cash Award. Gan Jing World (GJW) is a dynamic network of integrated services featuring a video-sharing platform, a pristine online reading section, topic discussion board, and dedicated children's space.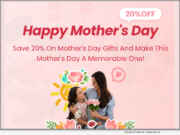 NEW YORK, N.Y., May 8, 2023 (SEND2PRESS NEWSWIRE) -- As Mother's Day approaches, HitPaw Online is excited to announce our "All for Mom" sale. This year, we want to help you make your mother's day extra special by offering 20% OFF discounts on some of our most popular products, which we believe will be perfect for mothers who want to preserve and enhance their memories.
WASHINGTON, D.C., May 6, 2020 (SEND2PRESS NEWSWIRE) -- The Black Hollywood Education and Resource Center (BHERC) continues its "Operation Love" outreach Saturday May 9, and Sunday, May 10, 2020 in Washington D.C. and Baltimore, Maryland targeting homeless families with "underlying" health and psychosocial conditions who have been extremely impacted by COVID 19 shelter in place mandates and need assistance.