Home
Tags
Georgia politics
Tag: Georgia politics
LINCOLNTON, Ga., March 10, 2022 (SEND2PRESS NEWSWIRE) -- After several attempts by the Lincoln County Board of Elections to reduce the number of polling places in Lincoln County Georgia, the Georgia Coalition for the People's Agenda and other voting rights groups were elated that the voice of the voters was heard and their efforts to stop the board from closing seven locations to create one was successful.
ATLANTA, Ga., Nov. 1, 2021 (SEND2PRESS NEWSWIRE) -- Georgia voters head to the polls, and some cities may need runoff elections this month. To educate citizens about alternatives to this system, Better Ballot Georgia, Inc (BBGa), an all-volunteer, Georgia non-profit proclaims November to be "No More Runoffs Month."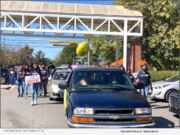 ATLANTA, Ga., Dec. 8, 2020 (SEND2PRESS NEWSWIRE) - MEDIA ADVISORY -- Just a day before they must fight in court against the purging of Georgia voters, the Transformative Justice Coalition and Rainbow PUSH Coalition will join the Georgia Coalition for the Peoples' Agenda, community leaders and organizers from across the state for a press conference to kick-off the John Lewis "Good Trouble" March and Votercades to mobilize voters for the U.S. Senate runoff races and Public Service Commission race on Jan 5, 2021.