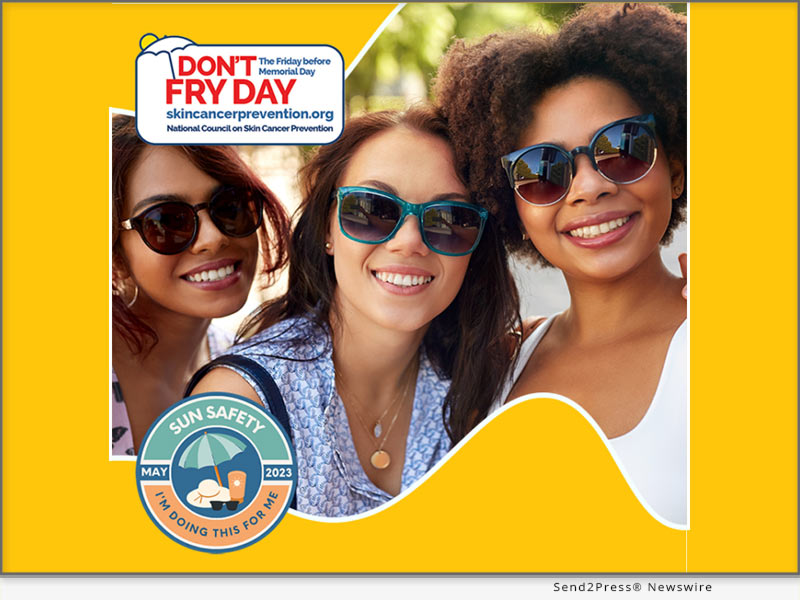 WASHINGTON, D.C., May 24, 2023 (SEND2PRESS NEWSWIRE) — To help reduce rising rates of skin cancer from overexposure to the ultraviolet rays of the sun, the National Council on Skin Cancer Prevention has designated the Friday before Memorial Day, May 26, 2023, as "Don't Fry Day" to encourage sun safety awareness and to remind everyone to protect their skin while enjoying the outdoors. This year, the campaign, "I'm Doing this For Me" highlights sun safety as an important way to take care of yourself and those around you.
"Don't Fry Day is a great reminder as we head into the summer that we all need to be protecting our skin day in and day out," says Cody Barnett, MPH, co-chair of the National Council on Skin Cancer Prevention's Don't Fry Day campaign. "We know that sun safety works to lower your risk of developing skin cancer, including melanoma, later in life. So, protect your skin for your future self and encourage those around you to do the same."
Skin cancer is the most common type of cancer in the nation. Approximately 9,500 people in the U.S. are diagnosed with skin cancer every day – more than breast, colon, lung, and prostate cancers combined. In fact, 1 out of every 5 Americans will be diagnosed with some form of skin cancer in their lifetime.
Skin cancer is highly preventable. Over 90% of all skin cancer is caused by exposure to ultraviolet radiation from the sun or indoor tanning devices.
Americans can dramatically reduce their risk of skin cancer by:
* Not burning or tanning intentionally – no tan is a safe tan
* Generously applying sunscreen (remembering to reapply every two hours)
* Wearing sun-protective clothing
* Covering up with hats and sunglasses
* Seeking shade during peak times of the day
* Using extra caution near water, snow, and sand
About Don't Fry Day:
"Don't Fry Day," now in its 15th year, is a public awareness campaign that aims to reduce the number of new skin cancer diagnoses by promoting sun safety and encouraging people to protect their skin while enjoying the outdoors. We invite you to view and use the 2023 Don't Fry Day Toolkit and to incorporate the graphics, messages, and more into your own social media.
Learn more at https://www.skincancerprevention.org/programs/dont-fry-day/
Toolkit request form: https://www.curemelanoma.net/dfd/
About The National Council on Skin Cancer Prevention:
The National Council on Skin Cancer Prevention is the united voice of 45 groups dedicated to reducing skin cancer morbidity and mortality in the United States. Council members represent some of the nation's premier researchers, clinicians and advocates for melanoma and skin cancer prevention. Visit: https://skincancerprevention.org/.
News Source: National Council on Skin Cancer Prevention
Related link: https://skincancerprevention.org/
This press release was issued on behalf of the news source, who is solely responsible for its accuracy, by Send2Press Newswire. To view the original story, visit: https://www.send2press.com/wire/the-friday-before-memorial-day-is-declared-dont-fry-day-to-encourage-sun-safety-and-awareness/