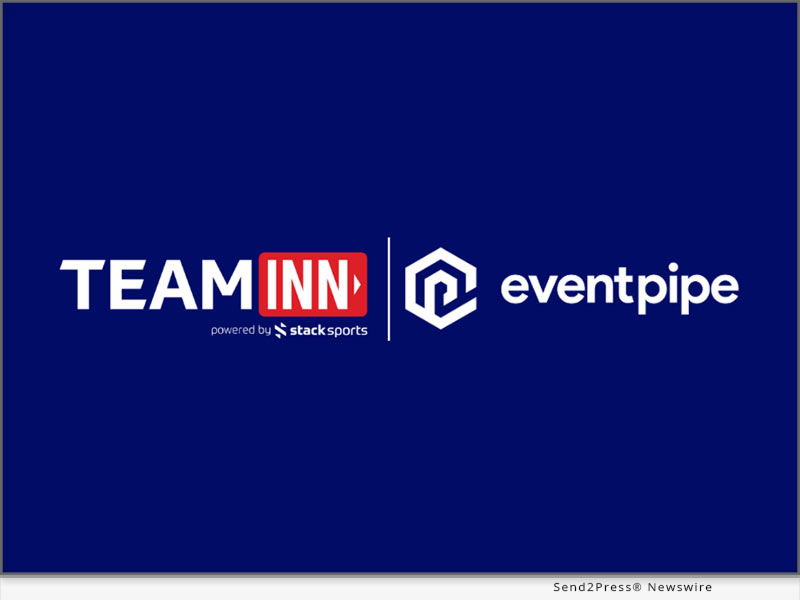 PLANO, Texas, Sep 13, 2023 (SEND2PRESS NEWSWIRE) — TEAMINN, powered by Stack Sports, a leading name in team travel solutions, is thrilled to announce its strategic partnership with EventPipe, an innovative hotel booking management platform. This collaboration is set to transform the landscape of hotel bookings for event operators and traveling teams, offering seamless and efficient booking technology that simplifies the process for all stakeholders involved.
EventPipe's cutting-edge platform is designed to streamline the hotel booking experience, providing event operators, clubs, and teams with an intuitive and user-friendly system. With a commitment to delivering the most convenient and hassle-free solutions, this partnership underscores TEAMINN's dedication to enhancing the overall experience for event organizers and participants.
"At EventPipe, we've always believed that the travel experience is a crucial aspect of any event. Our partnership with Stack Sports marks a significant step towards revolutionizing how teams and event organizers manage their accommodations," remarked Tim Brown, CEO at EventPipe. "By integrating our cutting-edge booking technology with TEAMINN's industry expertise, we're empowering teams to focus on what truly matters – the game."
One of the key highlights of this collaboration is the emphasis on easy booking technology. With EventPipe's advanced features, event operators can effortlessly manage hotel bookings for their events, ensuring that teams and participants have a comfortable stay. This technology not only saves time but also reduces the complexities often associated with coordinating team travel.
"We are excited to join forces with EventPipe to bring a new level of convenience and efficiency to hotel booking management," said Brandon Hollmann, General Manager at TEAMINN. "Our combined expertise will empower event operators and clubs to seamlessly coordinate accommodations for their traveling teams, ensuring a smoother experience for everyone involved."
This partnership aims to revolutionize how event operators and clubs manage their hotel bookings, ultimately contributing to the success of events and tournaments across various sports. By harnessing the power of cutting-edge technology, TEAMINN and EventPipe are paving the way for more streamlined and organized team travel arrangements.
For further information about TEAMINN and the partnership with EventPipe, please visit https://myteaminn.com/contact-us/.
About EventPipe:
EventPipe is a cloud software company that provides a modern approach to event housing management for event producers, housing companies, meeting planners, and convention and visitor bureaus (CVBs). EventPipe is a comprehensive solution that covers the full event housing lifecycle. Users are able to complete everything from creating RFPs, to managing hotel contracts, building customized booking sites, managing inventory and reconciling their events. Learn more: https://eventpipe.com/.
About TEAMINN:
TEAMINN is the #1 online hotel booking application for event operators, coaches, managers, and team moms, saving time and money booking hotel reservations for their team or group. Our tools are engineered to put a smile on your face and keep more money in your pocket. TEAMINN books over 50k room nights annually for events all over the country. For more information please visit https://myteaminn.com/.
About Stack Sports:
With nearly 50 million users in 35 countries, Stack Sports is a global technology leader in SaaS platform offerings for the sports industry. The company provides world-class software and services to support national governing bodies, youth sports associations, leagues, clubs, parents, coaches, and athletes. Some of the largest and most prominent sports organizations, including the U.S. Soccer Federation, Little League Baseball and Softball, and Pop Warner Little Scholars, rely on Stack Sports technology to run and manage their organizations.
Stack Sports is headquartered in Dallas and is leading the industry one team at a time focusing on four key pillars — Grassroots Engagement, Participation Growth, Recruiting Pathways, and Elite Player Development. To learn more about how Stack Sports is transforming the sports experience, please visit https://stacksports.com/.
News Source: Stack Sports
Related link: https://stacksports.com/
This press release was issued on behalf of the news source, who is solely responsible for its accuracy, by Send2Press Newswire. To view the original story, visit: https://www.send2press.com/wire/revolutionizing-team-travel-teaminn-partners-with-eventpipe-to-redefine-hotel-booking-for-event-operators-and-traveling-teams/