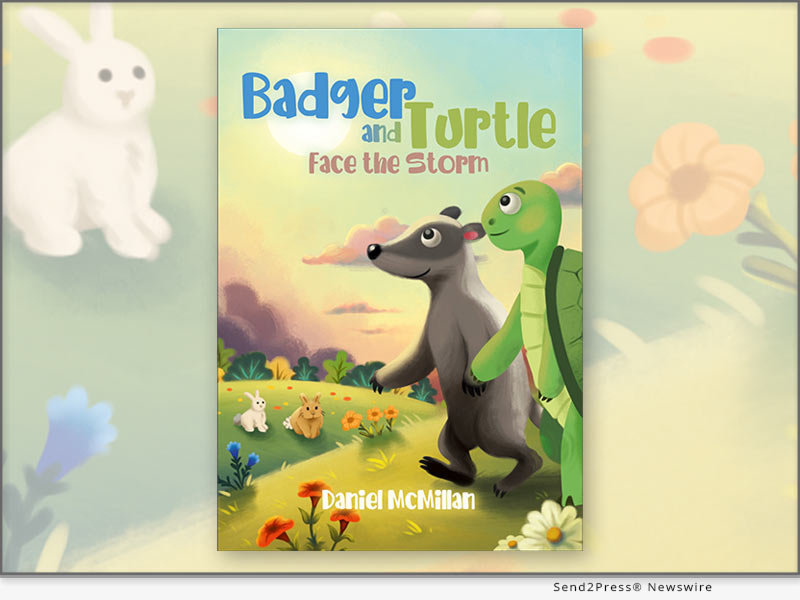 CALGARY, Alberta, Canada, Sep 12, 2023 (SEND2PRESS NEWSWIRE) — Relationships, marriage, and parenthood-these beautiful connections often come with their share of challenges. Dan McMillan, a therapist and psychologist based in Alberta, Canada, witnessed the struggles that can plague relationships. He recognized the need to shed light on a common hurtful pattern that couples often find themselves in. This realization led to the creation of his debut picture book, "Badger and Turtle: Face the Storm" (ISBN: 978-0228888116).
The inspiration for this heartwarming tale emerged from McMillan's experiences working closely with couples. He noticed a recurring pattern in their dynamics and decided to simplify it through a story about a badger and a turtle. In the story, the turtle retreats into its shell when stressed, while the badger, though well-meaning, persists in pursuing the turtle with increasing intensity. This tug-of-war between withdrawal and pursuit struck a chord with many couples.
"Badger and Turtle: Face the Storm" (Tellwell Publishing, 2023), follows a pair of friends who learn to work together under stress. This book is meant for not only children to enjoy, but as a tool for families to better understand a common, hurtful pattern that can occur, particularly between parents.
McMillan explains, "This book holds significance in that one of the key factors in parents' mental and emotional wellbeing is the support of their partner whilst the children are young. When their relationship is strong the support is high, but when it is struggling that needed support is low. Statistically, and intuitively, relationship satisfaction is low whilst raising young children, due to the demands of it. "Badger and Turtle: Face the Storm" attempts to focus on bringing needed education to this population at a time it is most relevant, in a culture that isn't telling them this."
The initial years of parenthood present considerable obstacles for couples. The nature of their relationship impacts not just them, but also profoundly shapes the emotional landscape in which their children mature. "Badger and Turtle: Face the Storm" is an important tool to share this educational metaphor via a fun, safe story for all!
For more information about Dan McMillan and his book Badger and Turtle, please visit https://danmcmillanbooks.com/.
BOOK SUMMARY:
Author: Daniel McMillan
Website: danmcmillanbooks.com
Email: https://danmcmillanbooks.com/contact/
Buy Link: https://www.amazon.com/dp/0228888115
Genre: JUVENILE FICTION / Social Themes / Emotions & Feelings
Released: August 11, 2023
PAPERBACK ISBN-13: 978-0-2288-8811-6
Publisher: Tellwell (www.tellwell.ca)
News Source: Author Dan McMillan
Related link: https://danmcmillanbooks.com/
This press release was issued on behalf of the news source, who is solely responsible for its accuracy, by Send2Press Newswire. To view the original story, visit: https://www.send2press.com/wire/reimagining-parenthood-a-therapists-insight-into-weathering-relationship-storms-a-beacon-of-support-for-couples-in-the-journey-of-raising-children/