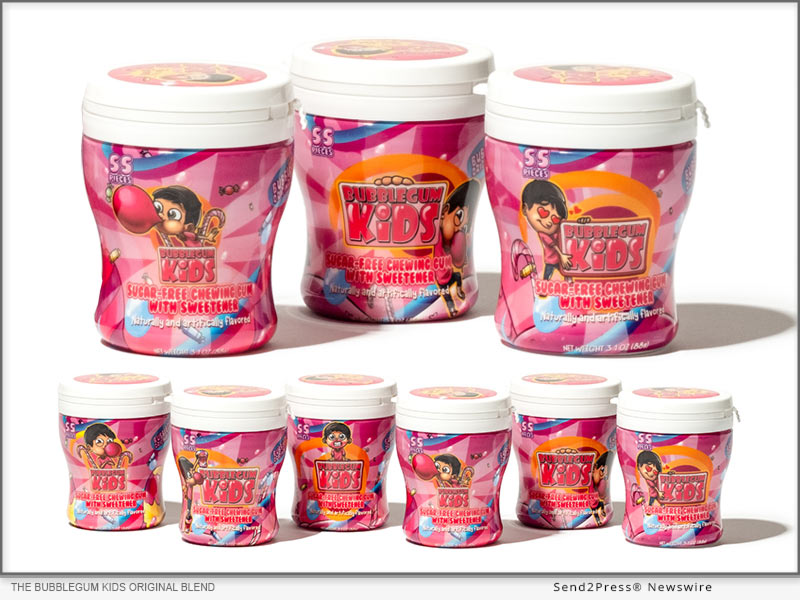 TORONTO, Ontario, Aug 30, 2023 (SEND2PRESS NEWSWIRE) — Introducing Bubblegum Kids- a sugar-free gum with that classic bubblegum flavor, offering a nostalgic journey back to the carefree days of childhood with every delightful chew. Guided by their passion for bubblegum, Oliver and Zach Hyman embarked on a mission to craft a high-quality, health-conscious alternative to traditional bubblegum. Bubblegum Kids is available for purchase today at https://bubblegumkids.com/.
"We aimed to capture that timeless bubblegum flavor that instantly transports you back to your childhood. Becoming parents inspired us to create a healthier version of a beloved classic, ensuring that everyone can enjoy that classic bubblegum taste," explained Oliver Hyman, CEO and co-founder of Bubblegum Kids.
With the launch of Bubblegum Kids, prepare for an exciting surprise with the unveiling of the BGK Bonanza- a sweepstakes extravaganza! With every purchase of Bubblegum Kids gum, participants unlock entries into the BGK Bonanza giveaway, offering an opportunity to win a remarkable $30,000 worth of nostalgic prizes. Among the prizes lies a dream trip to Disneyland and Universal Studios. Additional prizes include PlayStations, Barbie Dream House, Furbys, a Toys "R" Us shopping spree, and a myriad of other enchanting surprises.
"Oliver and I have created Bubblegum Kids to be a testament to both nostalgia and innovation. The Bubblegum industry has been yearning for innovation and compelling storytelling, and we are here," adds Zach Hyman, co-founder of Bubblegum Kids.
Starting today, Bubblegum Kids' Original Blend flavor is available for purchase on www.bubblegumkids.com. A single bottle is priced at $9.99 per pack, and a six-pack can be yours for $39.99, with each bottle containing 55 pieces of bubblegum. For further details on Bubblegum Kids and the BGK Bonanza, visit https://bubblegumkids.com/.
About Bubblegum Kids
Bubblegum Kids is a pioneering force in the confectionery industry, creating innovative treats that capture delightful and nostalgic experiences. Committed to excellence, ingenuity, and fostering a sense of community, Bubblegum Kids is dedicated to infusing joy and magic into the lives of individuals spanning generations. Our mission is clear: awaken the cherished wonders of childhood while creating high quality & healthier alternative treats. For upcoming announcements, please explore Bubblegumkids.com or engage with us on social media platforms such as Instagram, Facebook, and TikTok.
About Oliver Hyman
As the CEO of Bubblegum Kids, Oliver Hyman brings a wealth of experience as a serial entrepreneur in the direct-to-consumer (D2C) product realm. Oliver's deep understanding of consumer trends and penchant for innovation drive the brand's strategic growth.
About Zach Hyman
Zach Hyman is a renowned NHL player, currently playing for the Edmonton Oilers. Beyond hockey, Zach is an acclaimed author of children's books and serves as the CEO of Soar Gaming. His gift for creative storytelling and entrepreneurial acumen play pivotal roles in shaping the vision of Bubblegum Kids.
News Source: Bubblegum Kids Inc.
Related link: https://bubblegumkids.com/
This press release was issued on behalf of the news source, who is solely responsible for its accuracy, by Send2Press Newswire. To view the original story, visit: https://www.send2press.com/wire/rediscover-nostalgia-with-new-better-for-you-bubblegum-from-bubblegum-kids/