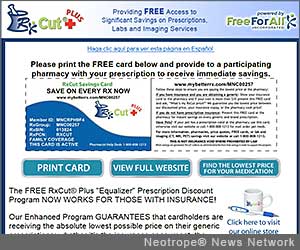 DOVER, Pa. /New York Netwire/ — RXCut(R) Plus announced this week a new website that is designed to help people get the best prescription price available. "Our cutting-edge pharmacy price search is tightly integrated with Google Maps technology making it faster and easier for people to access pharmacy information," Gerard Ferro, founder and CEO RXCut Plus, says.
"People can easily search for multiple medication prices at all the pharmacies in their local area so they know they are getting the best price available."
The Centers for Medicare and Medicaid (CMS) report that in 2014, prescription drug spending is expected to grow at a rate of 10.7 percent. In fact, medication costs have been the fastest-growing component of healthcare costs for the past five years. So, what can people do to combat these soaring prescription fees?
Ferro has 26 years of broad-based healthcare industry experience and is nationally recognized for his expertise in healthcare, healthcare technology and pharmaceutical plan management.
RxCut(R) Plus is the self identified "Equalizer in Healthcare." Its mission is to give people control over their healthcare costs through prescription, lab tests and imaging service savings.
In addition to offering this cost-saving prescription search tool, RxCut(R) Plus also has a free discount card available for download on its website. This discount card provides access to savings up to 75 percent for prescription medications and up to 50 percent for lab and imaging services. These cards may used for pet medications too.
So, how does it work? There are a few ways that people may take advantage of RXCut(R) Plus services.
First, if a person has insurance and is obtaining a generic prescription that is more than $10, the person then presents their free RxCut(R) card and asks for the RxCut(R) Plus price.
"We guarantee you the lowest price between our discounted price, your insurance co-pay or the pharmacy cash price," Ferro says.
Second, if a person does not have prescription insurance, he or she presents their free RXCut(R) card at the pharmacy for instant savings on every generic and brand prescription.
There are no enrollment fees; everyone qualifies and usage is unlimited. It works for all FDA-approved medications and pet medications.
For more information, visit: http://www.RxCostSearch.com/ .
Copyright © 2013 New York Netwire™ and Neotrope®. NewYorkNetwire™ is a news publication of the Neotrope News Network and a trademark of Neotrope – all rights reserved. NEWS SOURCE: RXCut Plus