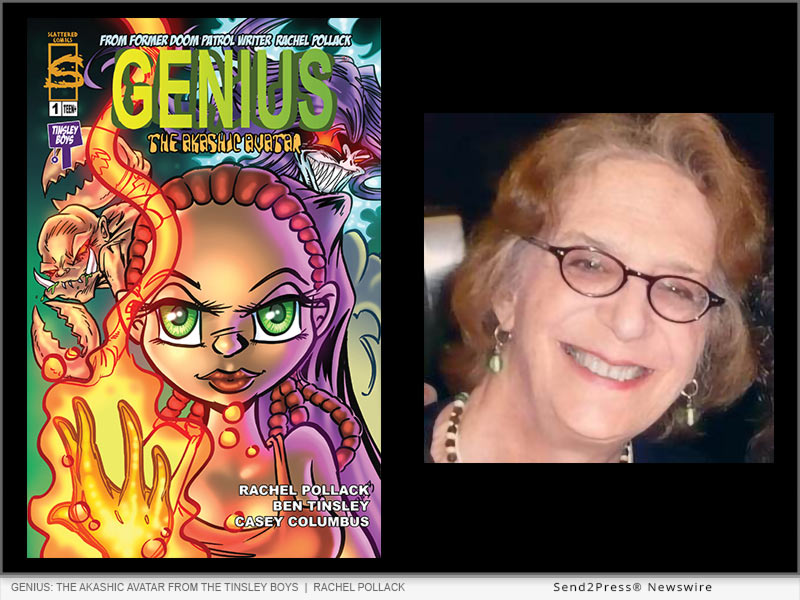 FORT WORTH, Texas, Sep 07, 2023 (SEND2PRESS NEWSWIRE) — The first issue of the comic book "GENIUS: The Akashic Avatar" is perhaps the most notable because it contains a story penned by Rachel Pollack, an award-winning trans author, tarot expert and comic book writer who died of Hodgkin's lymphoma April 7, 2023 at age 77, the TINSLEY BOYS announced today.
You may remember Rachel Pollack's magnificent writing from DC COMICS' DOOM PATROL – much of which was reflected in the TV series based on the comic.
The 56-page issue of GENIUS is currently for sale on Kickstarter. It can be purchased at: https://www.kickstarter.com/projects/ba3-altnarratives/genius-1
In addition to Pollack's work, the oversized issue contains stories written by veteran comic book writers BEN TINSLEY and CASEY COLUMBUS. The Pollack story was originally solicited by Tinsley back in 2010. It was originally published in a 2011 issue.
"That story was amazing," said Jake Tinsley, Ben Tinsley's adult son and comic book writing partner. "Rachel Pollack had such epic energy."
Jason Dube, Scattered Comics publisher, agreed Pollack brought something incredible to GENIUS.
"We were floored when we learned Rachel had passed away," Dube said. "She was such an amazing talent. And Ben is always talking about how supportive and friendly she was."
Pollack is survived by her wife, Judith Zoe Mateen.
According to legend, the Akashic Library, or Akashic records, contain information about all universal events, thoughts, words, emotions and intent ever to have occurred to anyone and everyone throughout all space and time.
Set on the Texas island Galveston, GENIUS: The Akashic Avatar centers around TANYA, a beautiful teenager of color selected by cosmic forces to become the librarian and guardian of the Akashic Library known in legend as the Akashic Avatar.
After initial publication of GENIUS A few years back, Pollack suggested to Ben Tinsley during an email exchange that he re-publish the story because she was constantly receiving questions about the legendary Akashic Library.
"Her fans kept asking her if the Akashic Library was real or not," Jake Tinsley said. "She told my dad she felt him reprinting story she'd written for us might help … But we really thought she'd be around to see this."
It took some time to put the comic back together.
The published art for the comic, drawn by Casey Columbus had been lost in the shuffle.
All that remained were the stack of comics Ben Tinsley retained from that original run.
Ben Tinsley was able to recover the original pencils Columbus rendered.
Jason Dube and Tinsley worked closely together to reassemble the comic book, color it and add Pollack's scripted dialogue, which Ben Tinsley HAD retained.
"All of that took a minute," Jason Dube said. "I also worked on the original issue. But it had been published so long ago."
Jake Tinsley said his father secured the copyright for the character shortly before the comic book was originally published.
What happened to the original GENIUS comic was a lesson in organization for Ben Tinsley, his son said.
This new issue includes commentary from Pollack, provided by the beloved writer before dying.
News Source: TINSLEY BOYS
Related link: https://www.scatteredcomics.com/ben-tinsley
This press release was issued on behalf of the news source, who is solely responsible for its accuracy, by Send2Press Newswire. To view the original story, visit: https://www.send2press.com/wire/new-issue-of-scattered-comics-genius-on-kickstarter-contains-extensive-story-written-by-the-late-rachel-pollack-a-beloved-trans-writer/