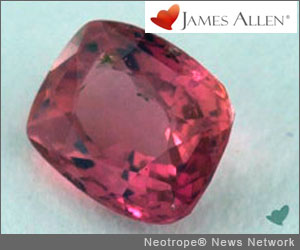 NEW YORK, N.Y. /New York Netwire/ — Online luxury jeweler James Allen has announced a new line of natural gemstones to complement its high-quality engagement rings. The online bridal retailer currently offers a beautiful selection of blue sapphires, pink sapphires, yellow sapphires, red rubies and green emeralds. Natural gemstones are a great, budget-friendly alternative to traditional center diamonds.
Now customers can choose from a wide range of high quality engagement rings for under $1,000.
From deep blue sapphire – to striking red ruby – to forest-green emerald, James Allen has a gemstone that is perfect for you. Among James Allen's most popular gemstones are the blue sapphires, which symbolize loyalty and soul. For those who prefer lighter colored stones, sapphires come in a spectrum of pink and yellow shades. In addition, James Allen offers an impressive collection of natural rubies, which signify courage and emotion – a bold declaration of eternal love. Lastly, James Allen offers precious green emeralds, which were recently named Pantone's Color of the Year.
Gemstones are a popular choice among A-list celebrities on the red carpet. Celebs love sporting gemstone engagement rings as an alternative to the classic diamond engagement ring. Halle Berry received an emerald engagement ring from her fiance, Olivier Martinez. Elizabeth Hurley wears a center blue Sapphire and diamond engagement ring, which has garnered much attention in Hollywood. Singer and Actress Jessica Simpson's engagement ring is a stunning combination of red ruby and diamonds. Most famously, Duchess of Cambridge, Kate Middleton, inherited the late Princess Diana's one-of-a-kind blue sapphire engagement ring. At James Allen, you can find styles that are similar to what the celebrities are wearing for a fraction of the price.
James Allen's exclusive new Display Technology(TM) enables customers to experience actual gemstones in 360 degrees, with incredibly vivid magnification – each gemstone comes to life in a breathtaking way. Couples in love no longer have to rely on a grading certificate or an overly assertive salesperson when it comes to making one of the most important purchases of their lives.
Every gemstone and diamond from James Allen comes backed with its Risk-Free Retail policy: Free shipping, free returns, a money-back guarantee and a lifetime warranty. If customers have any questions or need help deciding which gemstone best fits their wants, James Allen's highly trained staff of gemologists and customer service specialists are available 24 hours a day, 7 days a week.
For more details, please see http://www.jamesallen.com/ .
No Celebrity Endorsement Claimed or Implied.
Copyright © 2013 New York Netwire™ and Neotrope®. NewYorkNetwire™ is a news publication of the Neotrope News Network and a trademark of Neotrope – all rights reserved. NEWS SOURCE: James Allen