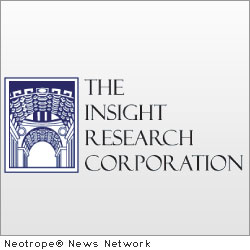 MOUNTAIN LAKES, N.J. /New York Netwire/ — The hospitals, physicians, clinics, and insurance providers that make up U.S. healthcare system will be spending over $69 billion on telecommunications services over the next six years, says a new market research study released by the INSIGHT Research Corporation. According to the market analysis study, spending by the U.S. healthcare industry on telecommunications services will grow at a compounded rate of 9.7 percent over the forecast period, increasing from $9.1 billion in 2012 to $14.4 billion in 2017 as the number of healthcare locations expands by 16 percent and the healthcare employment rate increases 2.5 times faster than the total national employment rate.
According to the report, "Telecommunications, IT, and Healthcare: Wireless Networks, Digital Healthcare and the Transformation of US Healthcare, 2012-2017," forces external to the healthcare industry, including Federal Government policies, an aging population, and healthcare worker shortages are encouraging the industry to find alternative approaches to current treatment practices.
Much of the high costs inherent in the current system are related to the proximity of patient and provider, as well as to the archaic administrative systems used to manage records and exchange information. Telecommunications can bridge these proximity and system gaps.
"Healthcare providers are avid consumers of telecommunications services and new technology. The combination of increased demand for wireless and broadband access, massive data storage demands, and the conversion to electronic health records (EHRs) and procedures is straining existing healthcare networks," says Fran Caulfield, INSIGHT Research Director.
"Our research measures key operational factors, such as population trends, patient monitoring, and cloud-based storage requirements, and then we quantify the demands for telecommunications services and equipment that will be needed to satisfy these demands No surprises; the research points to strong demand," concluded Caulfield.
"Telecommunications, IT, and Healthcare: Wireless Networks, Digital Healthcare and the Transformation of US Healthcare, 2012-2017" provides a forecast of U.S. healthcare telecom service spending by wireline and wireless access and by healthcare provider (Hospital, Physician, Clinics, and other practitioners).
A free report excerpt, table of contents, and ordering information is online at http://www.insight-corp.com/reports/telehealth12.asp .
This 158-page report is available immediately for $4,695. Electronic (PDF) reports can be ordered online. Visit our Website at http://www.insight-corp.com, or call 973-541-9600 for details.
Copyright © 2012 New York Netwire™ and Neotrope®. NewYorkNetwire™ is a news publication of the Neotrope News Network and a trademark of Neotrope – all rights reserved. NEWS SOURCE: INSIGHT Research Corp