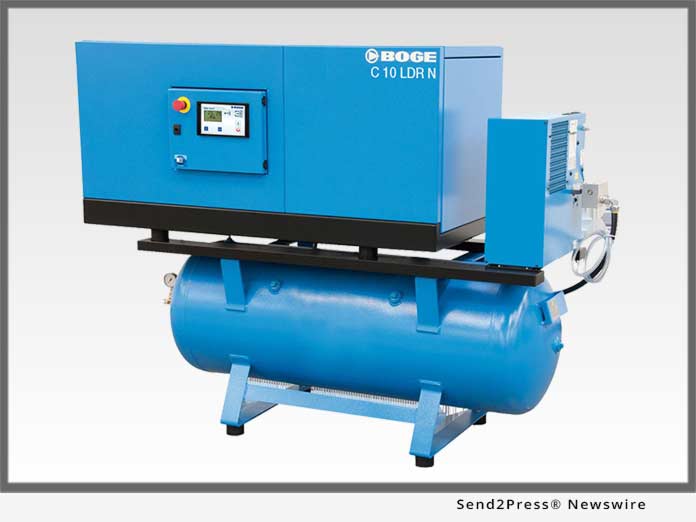 POWDER SPRINGS, Ga., Oct 30, 2018 (SEND2PRESS NEWSWIRE) — BOGE America (https://us.boge.com/en-us) was excited to feature the new product launch of their industrial grade full size CLDR Series rotary screw fully packaged, tank mounted compressors recently at the International Woodworking Fair in Atlanta, Georgia. BOGE's CLDR Series rotary screw compressors offer BOGE America customers a true industrial alternative to commodity grade tank mounted compressors designed for sale on the internet or through mass merchandisers.
According to Jerry Elsen, General Manager, BOGE America, "We've designed our CLDR tank mounted compressor packages with direct drive technology using larger air-ends operating at low rotational speeds mounted on ASME/CRN rated air receivers with ball valve drains, refrigerated air dryers-115V with auto drains, pre-filters 1.0 micron with auto drains & PSID indicators along with mounting isolators for the air receivers all as standard."
He added "CLDR compressors are truly designed for the toughest of duty cycles and include high-quality industrially packaged features that our customers demand to ensure reliable operation."
The CLDR Series all-in-one packaging provides clean, dry compressed air in a very small footprint making it simple to install and easy to maintain. In addition to the many high-quality design features, BOGE's CLDR compressor packages also offer industry leading performance with a lower specific power requirement. Larger size air-ends, TEFC IE3 premium efficiency motors, wye-delta starters and automatic sleep mode when there is no demand for air, all contribute to additional energy savings.
BOGE CLDR Series Rotary Screw Compressors with tank, dryer and pre-filter are available with simple Base Control or Focus Control 2.0 which offers many additional convenient features including load efficiency status, adjustable control parameters, maintenance advisories, maintenance log book, operating pressure, operating temperature, operating status, leak detection function, low ambient protection, dual control, auto sleep mode, language selection, auto restart capability, hour meters, sequence capability up to four compressors without the use of additional controllers and much more.
In addition, BOGE has an experienced global network of distributors in support of their products with factory trained and certified technicians to assist customers with air system installation, commissioning, maintenance, inspections, recommendations to ensure smooth operations.
About BOGE America:
BOGE America, Inc., is the United States of America's Daughter Company of BOGE Kompressoren GmbH based in Bielefeld, Germany. BOGE manufactures a comprehensive range of oil lubricated and oil free rotary screw, scroll and piston compressors used by all sectors of industry to supply compressed air for a wide range of manufacturing processes. The company also supplies a complimentary range of filters, dryers and condensate management equipment. The product is sold and serviced through a dedicated network of over 70 distributors in North and South America.
Further information regarding BOGE America and superior oil free air compressors, please visit their website https://us.boge.com/.
BOGE America, Inc., 3414 Florence Circle/Suite 100, Powder Springs, GA 30127.
News Source: BOGE America Inc.
Related link: https://us.boge.com/en-us
This press release was issued on behalf of the news source, who is solely responsible for its accuracy, by Send2Press Newswire. To view the original story, visit: https://www.send2press.com/wire/boge-launches-new-line-of-rotary-screw-air-compressors-direct-drive-low-speed-tank-mounted-with-refrigerated-dryer-and-pre-filter-5-20hp/