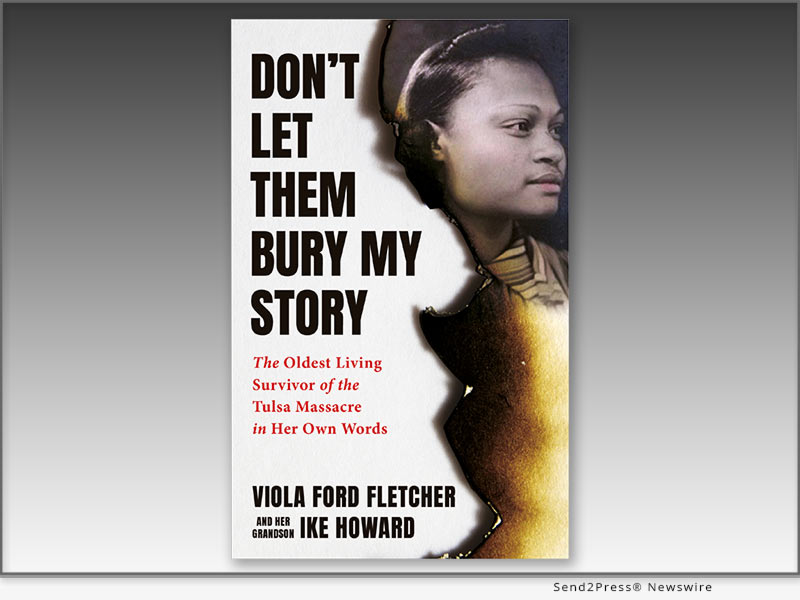 NEW YORK, N.Y., Aug 23, 2023 (SEND2PRESS NEWSWIRE) — Tonight, the heart of New York City will resonate with a poignant tribute as its iconic buildings don a solemn hue in honor of the International Day of Remembrance of the Slave Trade and its Abolition. This visual gesture carries a profound significance, paying homage to both an exceptional individual and an often-forgotten chapter of history, Mocha Media announces today.
The chosen illuminating color, yellow, serves as a tribute to Ms. Viola Ford Fletcher, the world's oldest living author and the venerable survivor of the Tulsa Race Massacre. Yellow holds a special place in Ms. Fletcher's heart as her favorite color, symbolizing optimism, resilience, and hope. At 109 years old, Ms. Fletcher embodies these very qualities, and her powerful best-selling memoir, "Don't Let Them Bury My Story," has touched hearts worldwide. Her remarkable journey through one of history's darkest episodes stands as a testament to human strength and perseverance.
Tonight's luminous display resonates with the spirit of Ms. Fletcher's message – one that emphasizes the vitality of remembering the past to forge a better future. In her book, she voices the importance of preserving these narratives as they serve to illuminate the path toward justice and equity. Her narrative of survival and determination continues to inspire dialogue on racial justice and historical acknowledgment.
As part of her commemoration of this significant day, Ms. Fletcher's itinerary in New York City holds poignant engagements. At 11 a.m., she will visit the African Burial Ground, paying her respects to those who endured the horrors of slavery. A moment of silence at 11:11 will stand as a collective acknowledgment of their struggles and the importance of their remembrance. Subsequently, at noon, Ms. Fletcher will be hosted by the United Nations, where observance will take place at the Ark Monument. Here, she will pour libations and offer prayers, invoking blessings in honor of the countless forgotten stories that history failed to tell.
Through the collective brilliance of these illuminated landmarks, especially in her favorite color, yellow, we unite in acknowledging Ms. Fletcher's legacy and her pivotal role in shaping our understanding of history. New York City's skyline transforms into a canvas of remembrance, standing as a testament to Ms. Fletcher's status as the world's oldest author and her profound impact on our shared narrative.
As night falls, the illuminated buildings not only pay homage to history but also stand as a beacon of hope for the future. This tribute echoes the sentiment that stories, like those of Ms. Fletcher, should never be consigned to oblivion but should instead serve as beacons of light, guiding our steps toward a more enlightened tomorrow.
For more information, please contact:
press@mochamediainc.com
202-210-0925
LISTING OF APPEARANCES:
* WEDNESDAY AUGUST 23, 2023
11 a.m. The African Burial Grounds, Wall Street
Honoring The Buried Stories. A short reading followed by a moment of silence at 11:11
12 p.m. The Ark of Remembrance, United Nations
Official Observance of the International Day of Remembrance of the Slave. Libations and blessings will be offered to commemorate the day.
* THURSDAY AUGUST 24, 2023
6:30 p.m. Book Launch: Don't Let Them Bury My Story.
Book Talk with Viola Ford Fletcher and Grandson/Co-Author, Ike Howard, Hannah Nikole Jones and Mocha Ochoa
News Source: Mocha Media Inc
Related link: https://www.mochamediabooks.com/
This press release was issued on behalf of the news source, who is solely responsible for its accuracy, by Send2Press Newswire. To view the original story, visit: https://www.send2press.com/wire/black-wall-street-survivor-viola-ford-fletcher-tribute-nyc-buildings-illuminate-in-remembrance-of-international-day-of-the-slave-and-buried-stories/