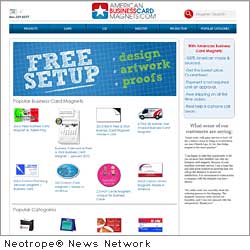 JERSEY CITY, N.J. /New York Netwire/ — Indeed, gone are the days of "one size fits all." Seeking to provide an unparalleled user experience and American made product offering, Magnets.com today introduced its newest division: American Business Card Magnets.
Supported by a new Ecommerce Web site researched, designed, and developed in-house, American Business Card Magnets provides customers a single, easy to use source for business card magnets – http://www.americanbusinesscardmagnets.com – manufactured and shipped to the their exact specifications. From quoting to fulfillment and all steps in-between, customers will be completely in the driver's seat.
Site highlights include:
* The ability to select magnet thickness and strength, corner finishing (round or square), and turnaround on the majority of products.
* Dynamic, real time product pricing which eliminates guess work and the timely process of requesting quotes via e-mail, phone, or other channels.
* Dynamic product filtering to help customers find exactly what they with just a few clicks.
* The option to create an account to facilitate quick viewing of order information and reorders.
"With business card magnets being our most popular product, this new division incorporates a number of customer driven advances and plays a large role in continuing our enterprise's strategic plan," said Erwin Metius, president of American Business Card Magnets and its parent company Magnets.com. "This is yet another example of how we keep our ear to the ground employing proactive, turnkey solutions based on customer feedback and research."
Believing in honest full disclosure, like all other Magnets.com divisions there are no additional charges for full color printing, setup, design, and online proofs. And while many customers enjoy the seamless experience a comprehensive Web site provides, the division will maintain a dedicated team of customer support agents to help with questions and ordering.
"Our continued investments in technology, actionable research, and customer service are key reasons for our strong, sustained growth," concluded Mr. Metius. "After all, success in this continually evolving industry demands we stay ahead of the curve to meet the needs of the customer."
For more information about American Business Card Magnets, visit their new Web site http://www.americanbusinesscardmagnets.com .
About American Business Card Magnets:
Jersey City, NJ based American Business Card Magnets, a new Magnets.com division, is a leading manufacturer of custom, high quality, American made business card magnets. With industry leading technologies, customer centric service, and honest prices and best practices, there has never been a quicker, easier, more engaging way to order custom business card magnets.
Copyright © 2011 New York Netwire™ and Neotrope®. NewYorkNetwire™ is a news publication of the Neotrope News Network and a trademark of Neotrope – all rights reserved. NEWS SOURCE: Magnets.com